Only the best of the best builders are invited to participate in the Pennsylvania Street of Dreams. One of the seven builders included, Farinelli Construction Inc., chose Rehmeyer Wood Floors, once again, to create the hardwood flooring throughout the bulk of the house. Farinelli went on to win Overall Best of Show, in addition to many other awards.
The custom milled floor designed for the Showcase Home is a 9" wide, Engineered*, Center Cut (Live Sawn) White Oak, with Standard Soft Edges. It features Hand Distressed detailing, Smoke Accents, a custom Russet Stain, and is finished with three coats of hand rubbed Tung Oil.
*Our Engineered floors are ¾" thickness, featuring an 11-ply Baltic Birch core product, which allows wide width boards to be used in any type of climate and virtually any building specification (i.e. slab production, basements, below grade rooms) without sacrificing stability or beauty. Our Engineered floors, featuring a 3/16" thick wear layer, allows us to utilize Hand Crafting techniques, such as Distressing, Scraping, Wire-Brushing, as well as Mortising our Hand-Shaped decorative pegs.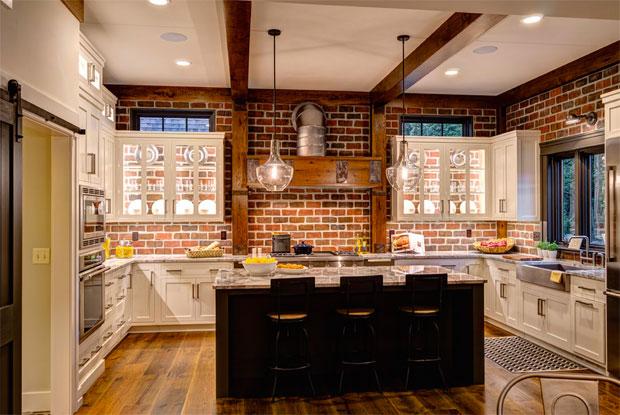 Our hardwood floors add warmth and beauty to any kitchen in a non-traditional way.
[Read more…]