Our New LED HardWax Oil Is Available On Any Rehmeyer Floor!
Rehmeyer Floors finished with Vesting's LED Hardwax Oil are more affordable, more durable, greener and easier to maintain than ever before.
Rehmeyer Wood Flooring is now offering our hardwood floors prefinished with Vesting LED-HardWax Oil. This revolutionary oil cures and hardens in a split second when it comes into contact with a special LED-light. When finished, the wood surface is instantly resilient and protected against dirt and moisture.
Vesting LED-HardWax Oil will make the colors of your floor significantly richer and deeper. Suitable for high traffic areas and commercial use because of its high wear-resistance.

LED Hardwax Oil is the future. Watch the short LED Hardwax Oil video below and see for yourself.
Why LED HardWax Oil?
Dirt and moisture repellent, highly resistant to chemicals
Provides deep coloring of the wood surface as well as on previously applied stains
Instantly Hardens and Cures – The LED-HardWax Oil finish is hardened and cured instantly and completely when exposed to our special LED lighting.
Optimal Load-bearing Capacity Immediately After Treatment
Green, Environmentally Friendly Flooring  – NO V.O.C. plus we use a lot less energy to cure than UV lighting methods
Commercial Grade Durability
Easy To Maintain
Reduced Costs
Reduced Pricing
Reduced Lead Time
For more information on Vesting LED-HardWax Oil click here.
Assorted colors include: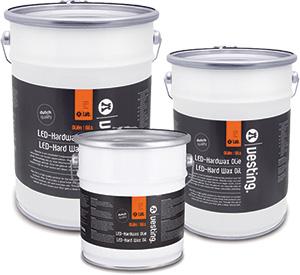 Natural
Soft White
Natural White
White
Creamy White
Soft Grey
Grey
Smoked
English Color
Abbey Brown
Chocolate
Sand
Black
Mahogany
Cherry
LED HardWax Oil has the look of an oil and the resistance of a lacquer
---
Quick-drying, Quick-curing
A special LED-light cures the finish within seconds. LED HardWax Oil is a high-quality finishing oil with unique characteristics. The oil consists of a special mixture of oils, waxes, resins and additives. As a result the HardWax oil is the first ever that instantly hardens and completely dries when exposed to a special LED light. The floor has an optimal load-bearing capacity immediately after treatment.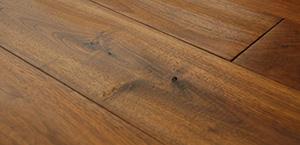 Natural Appearance
The major plus of hard wax oil is that the floor can be maintained well and that damage to the finishing layer can also be touched up. So you do not need to cover the entire floor to remove minor damage. Due to these possibilities, the floor retains its natural appearance.