Choosing Custom Options: Your Rehmeyer Floor starts here.
Rehmeyer Wood Floors offers a variety of custom wood flooring options. From choosing the perfect wood species to embellishing your floor with surface treatments/textures, wood pegs, patterns and unique finishing techniques, you'll find endless ways to enhance the appearance of your custom hardwood floor.
Wood Species – Select the best wood for your project.
Choosing the best wood species can be fun but challenging. Here are some things to consider when choosing the best species for your floor:
Your style – Is the space being used for a formal setting, leisure or day to day use?
Floor traffic – Animals? Children? Direct access to the outside? These all play factors in the type of wood and floor finish selected.
Room size and budget – If you have a budget, let us know what it is, along with the amount of flooring needed and we can help you find the best option to fit your style and functional needs within your budget.
What lies beneath- Radiant heating, substrates and overall moisture levels are all factors that should play into wood selection and flooring structure (engineered or solid).
Each wood species yields a different hardness, grain pattern, texture, hue and various other properties. Choose from native species such as Ash, White or Red Oak, Cherry, Hickory, Maple, Walnut or exotics such as Sapele and Purple Heart. Reclaimed woods are available in Chestnut, Heart Pine or Oaks.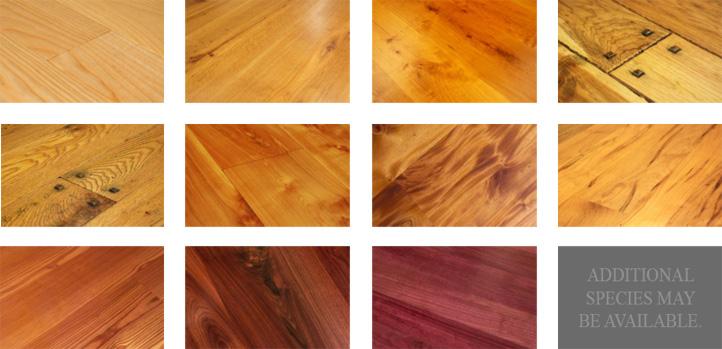 Special Requests – If you're looking for a special type of wood, seen or not seen on our site, tell us about it. Whether you're looking for an exotic species from another world, reclaimed wood or lumber that's cut in a specific way for a desired characteristic. We'll do our best to find what you're looking for.
Floor Structure
Solid – Traditional solid 3/4" floors are dried and precision milled which is the choice for typical installations. They can be stapled or glued to an acceptable subfloor.
Engineered – Radiant heat systems, below grade and unstable conditions can benefit from creating our solid wood into a premium ¾" engineered floor.
Width and Length Selections
Selecting the right size planks can make your room have less or more movement. Random widths can create more of a relaxed feel vs single widths can create more of a formal appearance. Depending on wood type we can mill flooring from 3" to 10" in widths and lengths up to 14 foot.
Surface Textures
Bring your floor to life by choosing from various surface styles.
Grain Accents – Highlighting grain and enhancing your floor with an aged patina.
Distressed – The look of antique flooring with nail holes and other natural aged marks.
Foot Worn – A unique texture to mimic the look of heavily traveled floors.
Light Hand Scraped – Old world craftsmanship gives the look and feel of floors scraped as they were centuries ago.
Heavy Hand Scraped – The same old world craftsmanship of light hand scraped is enhanced and amplified to create an even more intense time worn feel.
Edge Treatments
All flooring sanded and factory-finished at Rehmeyer requires some type of edge treatment. You can choose from the following selections or sand and finish on-site.
Soft Edge – Slightly rounded corners, ends and edges define the outline of each plank.
Soft Edge/30% Hand Beveled – A combination of edge treatments give a unique random appearance.
100% Hand Beveled – Authentically hand scraped edges highlight the perimeter of each plank.
Decorative Wood Pegs – To Peg or Not to Peg? That depends on your style.
Wood Pegs are offered in ½" square or round peg shapes. In addition, pegs can be sanded flush with the floor or slightly raised.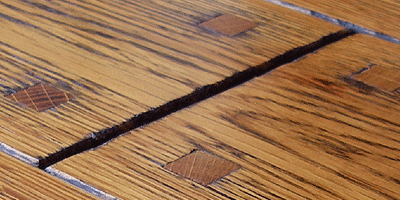 Flush Pegs
Flush Pegs (pictured above) – End grain decorative pegs are sanded flush with flooring surface. All pegs are crafted from the end grain of the corresponding floor species.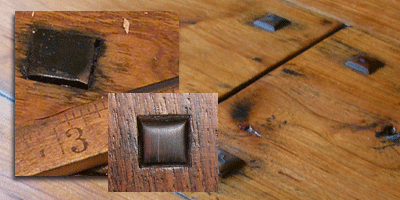 Time Worn Pegs
Time Worn raised pegs (pictured above) – These decorative pegs are rounded, accented and installed slightly above floor surface.
The Perfect Finish – Pick the best Rehmeyer finish for your floor.
We offer several types of finishes, all of our which are easily maintained and offer a level of repairability.
Hardwax Oil & LED Hardwax Oil
Hardwax Oil:
Available in an assortment of colors this natural plant based finish leaves a matte finish that seals the pores of the wood protecting from moisture and dirt. Hardwax Oil is very durable, environmentally friendly and can be spot-repaired (spot-refinished) very easily.
LED Hardwax Oil:
LED Hardwax Oil is the same as regular Hardwax Oil but it cures instantly and completely when exposed to a special LED. This speeds up production times and makes flooring with this finish more affordable than other options that take up more space and time to dry and cure. Rehmeyer floors that are finished with LED Hardwax Oil can be spot-refinished or repaired with the regular Hardwax Oil as well. This new option is very popular with homeowners and contractors alike. LED Hardwax Oil is one of the best finishing options, if not the best, available.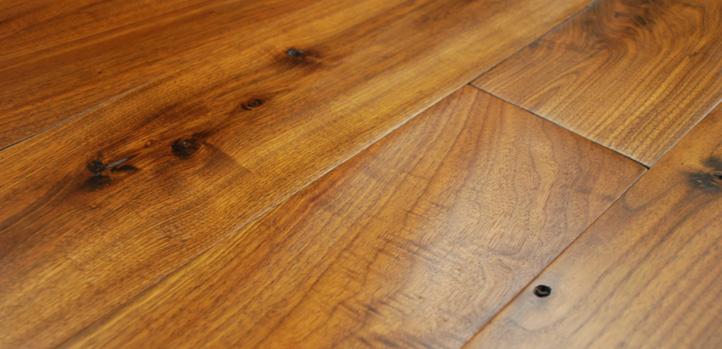 • Durable finish stands up to heavy traffic and repels dirt.
• Perfect for high traffic areas or commercial applications.
• Highly water resistance
• Very low in odor
• Cobalt-free and ketoximes-free
• Easy to apply with rollers, brushes or trowels
• Very high coverage area
• Enhances grain and hue of wood grain
• Allows floor joints to breath and does not bond boards together like some finishes
• Easy to refinish or repair
Tung Oil
Tung Oil is available on any custom Rehmeyer floor. This traditional finish offers a rich, hand-rubbed patina that enhances wood grain. Tung Oil brings out the natural character of the wood while penetrating to provide a deep lasting luster.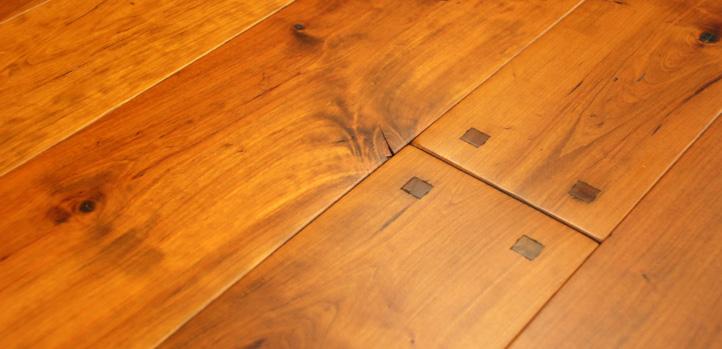 Tung Oil can be easily re-applied whenever needed. Tung Oil's properties permit it to bond with the previous coat. Only a light scuffing is necessary to remove any scratches left by normal wear. This means that repairs are easily achieved without having to re-coat the entire floor.
Standard & Custom Stains & Grain Accents
We can add a standard stain color to our Old Trail, Legacy and Authentic Hand Scraped Collection floors. Stain and Accent Color effects vary from species to species. Additional, custom stains and accent colors are available to enhance natural wood grain, distressing and other character features. When it comes to finishing your Rehmeyer floor, the sky is the limit. Make the choices that best fit your taste.