The Pioneer Collection is high quality hardwood flooring that's specially graded to retain a generous balance of each wood's unique characteristics. A wide range of species provides variety in color, grain, hardness, and style to complement virtually any décor. The Pioneer Collection is sold unfinished (sand & finish on site). Tung Oil finish, PolyWhey finish, and other custom options are available.
Included With The Pioneer Collection
Random widths of 3″, 4″, 5″, and 6″
Random lengths ranging from 18″ to 120″
Pioneer Collection Options
Pre-sanding w/ Soft Edge
Pre-sanding w/ Micro-Bevel
Flush pegs
Tung Oil Finish
PolyWhey Finish
Specialty Finish
Available as Engineered hardwood flooring
Matching accessories priced on request
---
Pioneer Collection Wormy Maple
Our character grade Wormy Maple is truly a one-of-a-kind hardwood floor! The tree's natural reaction to the ambrosia beetle displays unique wormhole characteristics that resemble the stripes of a tiger. No stain or distressing is necessary with this gorgeous marvel. Our Pioneer Collection Wormy Maple's 100% created-by-nature look will add design and flair to any space. The floor shown here was finished with Tung Oil.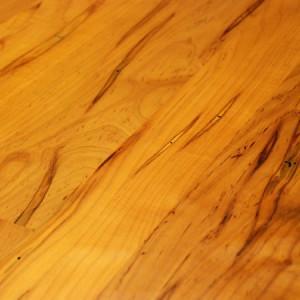 Pioneer Collection Walnut
Our Pioneer Collection Walnut is simply stunning with its amazing grain, sound knots, and rich, warm brown coloration. Our Unsteamed Walnut is custom sawn for us so that we can ensure that our clients receive a floor that is unparalleled in quality and appearance. The rich tones of our Walnut can be deepened further with a Tung Oil finish.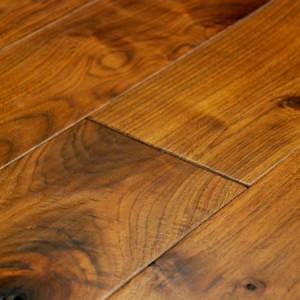 Pioneer Collection White Oak
Our Pioneer Collection White Oak maximizes the graining and overall character marks in this traditionally rustic style floor that would also look great in an eclectic or contemporary home. You'll have beautiful sound knots that will add tremendously to the natural look of this floor. White Oak is hard and fairly stable, making it a great choice for families, pets, and high traffic areas. Our personal favorite with this style is to add the Soft Edges and Tung Oil finish for a timeless and classic look you'll be proud to show off.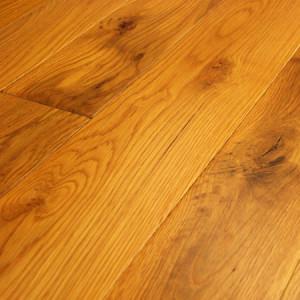 Pioneer Collection Cherry
The outstanding character in our Pioneer Collection Cherry floors appeals to those looking for a fairly formal appearance as well as those leaning more toward a simplistic rustic charm. We prefer the look of our Pre-Sanding with Soft Edge option so that you can truly admire the beauty of the random width planks. Finishing our Cherry floors with Tung Oil adds an extra element of warmth to the overall color. The sound knots and smooth grain make Rehmeyer Cherry floors a customer favorite.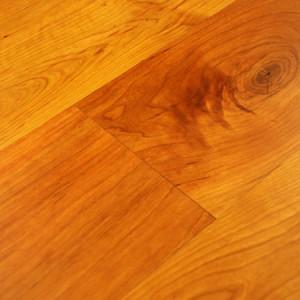 Pioneer Collection Hickory
Our Pioneer Collection Hickory flooring is a great mix of sound knots and overall character with the amazing contrast of color between the heart and sap wood. Our character grade Hickory flooring is versatile, durable, and very stylish. Shown here in the standard Sand & Finish on site with a square edged, seamless look, or you can add our Pre-Sanding and Soft Edge option to accentuate your custom milled wide planks. This floor looks great in contemporary or traditional design schemes.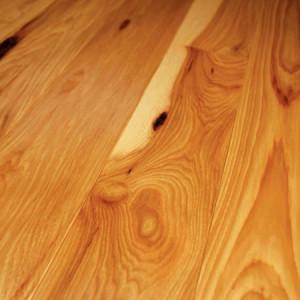 Pioneer Collection Red Birch
Our Pioneer Collection is milled to showcase the silky grain, sound knots, and overall character of Red Birch. Our Red Birch shares many of the same characteristics as Cherry, but it is actually a harder wood which makes it a better choice for high traffic areas, kids, and pets! We've shown it here with our optional Pre-Sanding, Soft Edges, and Tung Oil finish. Red Birch is an absolutely beautiful floor in any style!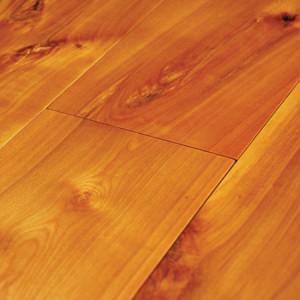 Pioneer Collection Red Oak
Our Pioneer Collection Red Oak floors continue to be a favorite for architects, designers, builders, & consumers alike. It's popular because of its overall durability, availability, and price. Red Oak is the benchmark for the flooring industry because of its relative stability and hardness. Rehmeyer has taken that bland, generic description and has raised the bar for Red Oak flooring. Our character Red Oak has sound knots and amazing grain that adds a textural look that is extremely attractive.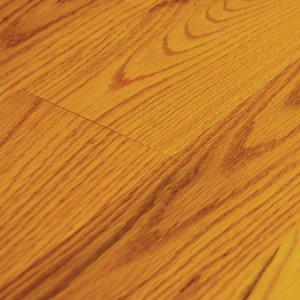 Pioneer Collection Pine
We offer several varieties of Pioneer Collection Pine floors including Eastern White Pine, Longleaf Southern Pine, and Reclaimed Heart Pine. All of these Pine floors will feature the outstanding grain pattern, character, and knots of their respective type. **Please refer to our By Species page for a more detailed description of each.