American Cherry – Pioneer Collection
The outstanding character in our Pioneer Collection Cherry floors appeals to those looking for a fairly formal appearance as well as those leaning more toward a simplistic rustic charm. We prefer the look of our Pre-Sanding with Soft Edge option so that you can truly admire the beauty of the random width planks. Finishing our Cherry floors with Tung Oil adds an extra element of warmth to the overall color. The sound knots and smooth grain make Rehmeyer Cherry floors a customer favorite. View the full
Pioneer Collection
.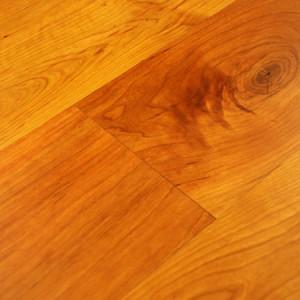 American Cherry – Old Trail Collection
Our Old Trail Collection Cherry floors are all about highlighting the natural character and graining of the wood while showcasing the hand distressing, Accent Color (Mocha or Smoke), and random width planks with our Standard Soft Edges. Our Old Trail Collection can be customized by adding options like Flush Pegs, Hand Beveled Edges, and Tung Oil Finish. These crafting techniques adds an element of depth and color that you won't find anywhere else. View the full
Old Trail Collection
.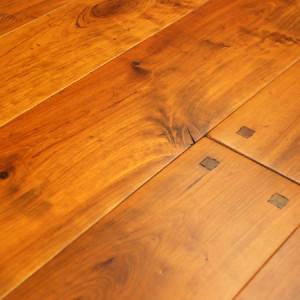 American Cherry – Authentic Hand Scraped Collection
Our Authentic Hand Scraped Cherry Collection is a true work of art! Our craftsmen hand scrape each plank to recreate that aged, vintage look that adds warmth, character, and value to your home. Our Cherry has sound knots, and the grain pattern is classic. Our Accenting process adds an element of extra depth to our Cherry floors that is unmatched. These floors are never mass produced, and each plank is uniquely crafted one at a time. Rehmeyer Wood Floors has refined our scraping techniques over the years, and the final product is stunning. Cherry is one of the most popular species for any of our flooring Collections, but specifically as a Hand Scraped floor. The intense labor involved in creating an
Authentic Hand Scraped floor
is well worth the time when the end result is a Cherry flooring masterpiece!