Hickory is the strongest and densest North American hardwood. Hickory is known for its durability and natural beautiful contrast between the brown shades of the heart wood and the creamy white tones of the sap wood. Hickory makes one of the most original floors possible because of the intense variation in color.
Hickory is one of the few wood species that looks beautiful with either a clear coat or Tung Oil finish depending on your decorating palette. A clear coat will maintain the blonde/white of the sap and gray/brown of the heart wood. Tung Oil will lend a more overall golden tone to sap wood and golden brown to the heart wood. Hickory looks equally amazing in a contemporary loft or a log cabin!
Hickory – Pioneer Collection
Our Pioneer Collection Hickory flooring is a great mix of sound knots and overall character with the amazing contrast of color between the heart and sap wood. This Hickory flooring is versatile, durable and very stylish. Shown here in the standard Sand & Finish on site, square edged, seamless look or add our Pre-Sanding and Soft Edge and/or Tung Oil finish to accentuate your custom milled wide planks.
View the full Pioneer Collection.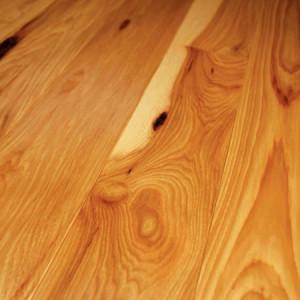 Also available custom milled in our Old Trail, Legacy, and Authentic Hand Scraped Collections.
Authentic Hand Scraped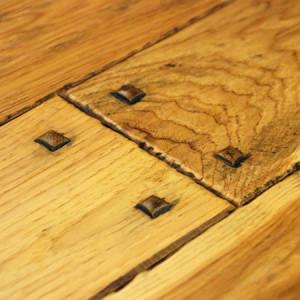 Old Trail