Birds Eye Maple – Prestige Collection
Birdseye Maple is one the most original domestic hardwoods you will ever see. Its creamy white natural color and characteristic bird's eye markings have made this species a sought after treasure for furniture and flooring for years. Birdseye Maple has limited availability, so please allow extra lead time when ordering. This floor is shown with a water-based finish to retain the natural blonde color.
View the full Prestige Collection.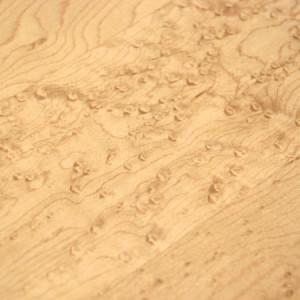 Wormy Maple – Pioneer Collection
Wormy Maple is truly a one-of-a-kind hardwood floor! The tree's natural reaction to the ambrosia beetle displays unique wormhole characteristics that resemble the stripes of a tiger. No stain or distressing is necessary with gorgeous marvel. The wormy maple's 100% created-by-nature look will add design and flair to any space. The floor shown was finished with Tung Oil.
View the full Pioneer Collection.